If you like this recipe come back on www.happystove.com and rate it!
Mozzarella, Tomatoes and Mint Salad - Recipe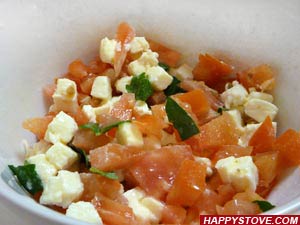 Mozzarella, Tomatoes and Mint Salad is an easy and really quick recipe for an original yet great salad. Fresh and healthy this simple starter is a perfect treat for your summer dinners.
Stats:
Preparation time:

5 minutes
Cooking Directions:
Cube the mozzarella cheese balls.
Wash and clean the tomatoes and cube them in pieces of the same size of the mozzarella cheese cubes.
Chop some fresh mint leaves and mix to the salad.
Adjust with salt, ground white peppercorn and serve.
Tips:
You can add some olive oil to dress this salad if desired.
Mozzarella, Tomatoes and Mint Salad is tagged as: