If you like this recipe come back on www.happystove.com and rate it!
Italian Tuna and Mixed Greens Salad - Recipe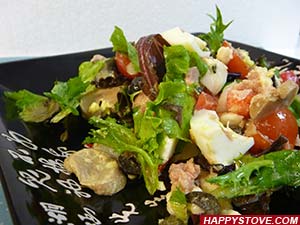 Italian Tuna and Mixed Greens Salad is a fresh and simple recipe that in few minutes will bring an explosion of flavors and colors to your table. This wholesome salad is perfect both as starter or main course for a light and healthy meal.
Stats:
Preparation time:

10 minutes
Ingredients:
To browse other recipes using that ingredient click on the
Cooking Directions:
Wash, clean and dry the mixed green. Cut the leaves in small pieces if necessary.
Wash the other vegetables. Cut the cherry tomatoes in halves. Cut also the mushrooms if necessary. Remove pits and slice the olives.
Cook the 2 eggs by hard boiling them for 8 minutes in abundant water. Let cool sitting the eggs in cold water, then peel and cut in pieces.
Drain one fresh mozzarella cheese ball from its water and cut in small cubes.
Open the can of Yellow Fin Tuna and save the olive oil. Reduce the tuna in small pieces using a fork.
In a large bowl mix together all the vegetables: lettuce, black olives and cherry tomatoes with the mozzarella cheese, the tuna, the eggs and, if desired, some capers.
Dress with the previously saved tuna oil and, if necessary, some extra virgin olive oil. Add salt, pepper and abundant oregano. The Italian Tuna and Mixed Greens Salad is now ready to be served.
Tips:
Yellowfin Tuna in extra virgin olive oil is highly recommended. If you use a tuna can in water or vegetable oil completely drain it discarding the water and the oil. High quality tuna is the key of this recipe.
Customize this fresh salad using your favorite vegetables such as onions, bell peppers, carrots and cucumbers.
Italian Tuna and Mixed Greens Salad is tagged as: