If you like this recipe come back on www.happystove.com and rate it!
Meatball Cannelloni with Tomato Sauce - Recipe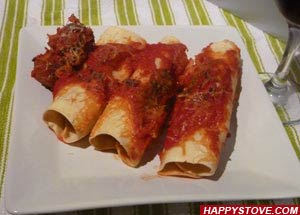 Meatball Cannelloni with Tomato Sauce is a rich and flavorful meal, perfect for an holiday luncheon or a special occasion. The long time required to prepare them will be well rewarded when these scrumptious cannelloni will be served on your table.
Stats:
Preparation time:

60 minutes
Ingredients:
To browse other recipes using that ingredient click on the
Cooking Directions:
Getting ready:
Prepare the lasagna sheets as described in the recipe How To Make Homemade Flat Lasagna Sheets ↪. Each sheet should be about 4 x 6 inches wide. Alternatively you can buy lasagna sheets or already made cannelloni pasta.
If using frozen meatballs, thaw and briefly brown them in a pan. You can prepare them at home following the recipes in Oven Baked Homemade Italian Meatballs ↪ or Swedish Meatballs (Kottbullar) ↪ (without the gravy).
Grate the Parmigiano Cheese.
Prepare a Homemade Traditional Tomato Sauce ↪ as described in the link, or use a jar of already prepared tomato sauce.
Making the cannelloni:
Cook the lasagna sheets for about 2 minutes in boiling salty water before using them for your cannelloni pasta. We suggest adding a tablespoon of oil to the boiling water to keep the squares from sticking together.
Lay each boiled lasagna sheet on a plain surface and add in the center the filling consisting of meatballs (2 or 3), a tablespoon of tomato sauce and some mozzarella cheese.
Roll up each cannelloni sheet around the filling to obtain a large cylinder.
Grease an oven safe pan. Pour some tomato sauce on the bottom to prevent the cannelloni from sticking and to keep them moist. Lay all the cannelloni side by side to form a single layer.
Cover the layer of meatball cannelloni with the remaining tomato sauce. Top with abundant grated Parmigiano cheese and, if desired, with some shredded mozzarella cheese.
Bake in the oven the Meatball Cannelloni at 400F for about 20 minutes. Before serving, broil them on high for additional 3/5 minutes to form a brown crust.
Remove the meatball cannelloni from the oven and serve hot. You may serve some additional tomato sauce on the side for those who like a richer, moister cannelloni.
Tips:
In the stores you can find previously shaped cannelloni pasta: boil according to the instructions reported in the box. Brake the meatball in small pieces and fill the cannelloni with the help of a spoon. Lay them in the oven baking pan as described. Cover with the tomato sauce and Parmigiano cheese and bake.
Meatball cannelloni can be frozen after being cooked and keep very well for few months in the refrigerator. Just thaw and reheat them for a few minutes before serving.
Usually, pre-made tomato sauce and meatballs are already spiced and do not require further seasoning. However, depending on your taste, you may consider adding some oregano and some thyme.
Meatball Cannelloni with Tomato Sauce is tagged as: