If you like this recipe come back on www.happystove.com and rate it!
How To Make Homemade Flat Lasagna Sheets - Recipe
Ever thought about making your own healthy homemade pasta dough for lasagnas? In this article you can learn how to make homemade flat lasagna sheets that can be used for your delicious lasagna or cannelloni. Surprisingly easy!
Stats:
Preparation time:

20 minutes
Cooking Directions: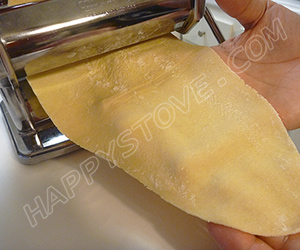 Sift the all purpose flour on a clean, large and smooth surface or in a large bowl.
At the center of the flour, add the eggs, the extra virgin olive oil and the salt. Mix them with the help of a spoon or a fork, trying to slowly add more flour from the edges.
Keep kneading the pasta dough with the help of your hands until you obtain a smooth and consistent dough.
Adjust with small quantities of flour or water to obtain a dough neither too sticky nor too dry. Please note that the amount of water needed for this recipe may vary depending on various factors including characteristics of flour and size of eggs.
Form a ball with the dough and let it rest for about 1 hour wrapped in transparent foil or covered with a moist kitchen cloth.
To roll out the dough and obtain flat sheets we suggest the use of a pasta machine. This speeds up the step of making constant width sheets that will cook evenly.
Cut small pieces of pasta dough and flour them lightly to avoid them being sticky. Roll the dough with the pasta machine from the thicker to the narrower settings until you obtain a thin and square lasagna sheet.
Cut the long pasta strips at the desired length and set apart, trying to keep the sheets separated to avoid them from sticking back together.
Cook the lasagna sheets briefly in boiling salty water before using them for your lasagna or your cannelloni pasta. We suggest adding a tablespoon of oil to the boiling water to keep the squares from sticking together
Tips:
If you don't have a pasta machine you may roll out the dough by hand. Divide the pasta dough into smaller balls and, with the help of a marble rolling-pin, roll them on a well floured smooth board.
These delicious homemade lasagna sheets can be used to make Traditional Lasagna ↪, Mushrooms Lasagna ↪ or Traditional Bolognese Cannelloni ↪
How To Make Homemade Flat Lasagna Sheets is tagged as: