If you like this recipe come back on www.happystove.com and rate it!
Chocolate Salami - Recipe
Chocolate Salami is a traditional Italian recipe in which cocoa, crumbled biscuits, eggs, sugar and butter are mixed and shaped to form a delicious sweet salami. This chocolate salami is a perfect dessert, with a rich flavor and a buttery texture, and will easily become one of your favorite treats!
Stats:
Preparation time:

20 minutes
Cooking Directions: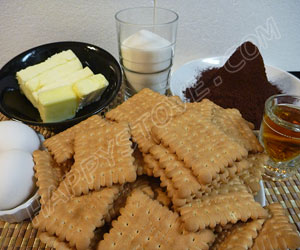 Please note that the quantities in this recipe are perfect to make two chocolate salami.
Before starting, crumble the rich tea biscuits with your hands.
In a large bowl, beat the whole eggs with the sugar until you obtain an homogeneous, lump free, mix.
Add the melted butter and, if desired, the liquor to the eggs and sugar. Mix well.
Slowly, sift the cocoa powder while mixing well with a whisk until you obtain a creamy, buttery and thick mixture.
Add the crumbled tea biscuits and mix with a wooden spoon as shown in the picture.
Divide the chocolate mixture in two halves before molding the 2 salami.
For each salami, place half of the chocolate mixture on parchment paper and shape it to form a salami (a long cylinder). Wetting your hands with water will make the process easier. Carefully, wrap the paper around the salami, sealing it.
Wrap the salami again with transparent film or aluminum foil. This second layer helps maintaining the shape and helps its preservation in the freezer.
Let set the chocolate salami in the freezer for at least 2 hours before serving.
Cut the chocolate salami in slices 1/4 inches thick. Lay the slices on chilled plates to keep the salami from melting too quickly when served.
This recipe requires the use of raw eggs. Pasteurized raw eggs are available in many stores and should be used for this recipe.
Tips:
Chocolate salami can be sprinkled with powdered sugar and shaped in different forms.
Hazelnuts, almonds and other nuts can be added to the chocolate salami. Just substitute some crumbled biscuits with an equal amount of chopped nuts.
To add some flavor to the chocolate salami, add a shot of Porto, rhum or cherry liquor to the mixture instead of brandy.
Morning coffee biscuits or Marie biscuits can be used instead of rich tea biscuits with equal results.
Chocolate Salami is tagged as: