If you like this recipe come back on www.happystove.com and rate it!
Casunziei Dumplings - Recipe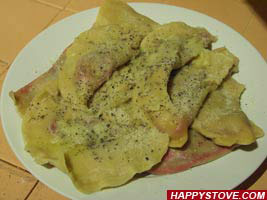 Traditional dumplings recipe from a small area of the north-eastern part of Italy with fresh pasta and a delicious heart of red beet filling. Great served with some melted butter and poppy seeds to highlight their smooth flavor.
Stats:
Preparation time:

60 minutes
Ingredients:
To browse other recipes using that ingredient click on the
Cooking Directions:
In a large bowl, add the flour, 2 tbsps of olive oil, 1 tsp salt and 4 eggs. Knead until the dough is uniform. The dough should result smooth, firm, and quite elastic. Adjust with water or flour if needed.
Flour your work surface. Divide the dough into two or more pieces and start to roll out the dough, starting from the middle. Flour it occasionally to keep it from sticking. Keep rolling till you have a sheet as thin as a dime.
Once you have a layer of the desired size, cut from it circle of about 3-3.5 inches. Be aware to keep them separated one from the other to avoid them to fuse one with the other
For the filling, blend the drained red beets and the garlic. Add salt, pepper and nutmeg to taste and cook thoroughly with 1 tbsp of oil in a large pan for about 5 minutes.
Now, lay about half a spoon of your filling in the center of the dough circles previously obtained. Fold in an half, to obtain half circles and tamp the dough to close the dumplings.
Again, keep the dumplings separated to avoid them stick one to the other.
In the meantime, bring to boil the water and add salt to taste. In another pan, melt the butter on low heat
Cook the dumplings until they move to the top of the pot. Drain and lay on the plate. Spread with butter, poppy seeds and abundant grated Parmigiano
Tips:
The use of a kneading capable mixer and of a dumpling maker can make easier for you to master this recipe. A Pasta machine comes handy, as well
If you like you can add within the filling a few cloves
Casunziei Dumplings is tagged as: