If you like this recipe come back on www.happystove.com and rate it!
Red Peppers and Ricotta Pasta - Recipe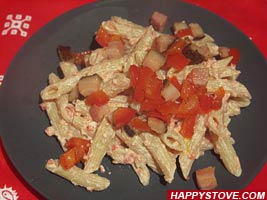 Peppers and Ricotta pasta is an easy and delicious recipe that mix together two different sauces both based on the red pepper. One with pepper chunks and the other with a smooth ricotta and pepper sauce.
Stats:
Preparation time:

15 minutes
Ingredients:
To browse other recipes using that ingredient click on the
Cooking Directions:
For the pasta: Fill a large stockpot with water. Bring the water to a rolling boil. Salt to taste. Add the Penne. Cook for the suggested time or until the pasta is al dente stirring occasionally. Drain the pasta into a colander.
For the first sauce: Heat a large skillet, add the olive oil and the finely chopped onion. Cube and add one of the 2 red peppers.
Let cook for 10 minutes or until the vegetables are wilt. Remove the skillet from the heat. Adjust with salt and pepper.
In the mean time prepare the second sauce, using a food processor, blending together the fresh ricotta cheese and the other red pepper.
Dress the pasta with the ricotta sauce and top with the red peppers and onions sauce before serving.
Tips:
If you like you can add some cubed bacon or pancetta in the skillet with the onion.
Red Peppers and Ricotta Pasta is tagged as: