If you like this recipe come back on www.happystove.com and rate it!
Penne Pasta with Sausages and Bell Peppers - Recipe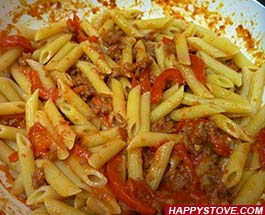 This Penne Pasta with Sausages and Bell Peppers recipe is a delicious and great idea for a quick dinner. Ready in less than 30 minutes this hearty pasta recipe will for sure be a success.
Stats:
Preparation time:

20 minutes
Cooking Directions:
Wash and cut in thin strips the bell peppers. Slice the onion.
Crumble the breakfast or bratwurst sausages removing the skin and breaking apart each link to obtain ground spiced meat.
In a large skillet heat the extra virgin olive oil and saute the onion. When lightly golden, add the bell peppers and stir fry for additional 5 minutes.
Add the crumbled sausage meat and stir fry until the meat is well cooked and starts to brown a little. At this point, if desired, you can add some spicy crushed red pepper.
Pour the tomato sauce in the skillet, stir well and cover.
Let cook at medium-low heat for about 8-10 minutes until the sauce is thick and ready stirring from time to time. Adjust your pasta sauce with salt and pepper if necessary.
In the meantime, bring to boil enough water to cook the penne pasta. When at rolling boil add the salt and cook the pasta until al dente.
When the pasta is ready, drain and briefly stir fry the Penne Pasta in a large skillet with the Sausages and Bell Peppers sauce. Remove from heat and serve immediately.
Tips:
You can top the pasta with some grated Parmigiano or goat Romano cheese if desired.
If you prefer to use fresh tomatoes instead of the canned sauce, just wash and cube them. Add them in the pan after the bell peppers are wilted. Cook the sauce for 10 additional minutes to allow the tomatoes to fully cook and blend their flavor with the other ingredients.
Penne Pasta with Sausages and Bell Peppers is tagged as: