If you like this recipe come back on www.happystove.com and rate it!
Jam dotted Shortbread cookies - Recipe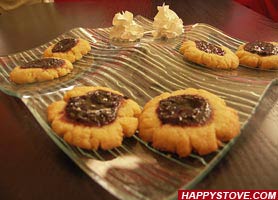 An easy recipe for jam dotted shortbread cookies with a lemony and fresh taste
Stats:
Preparation time:

20 minutes
Cooking Directions:
Combine flour, sugar, lemon zest and egg yolks in a large bowl.
Add the egg yolks one by one and mix. Help with your hands to obtain a more uniform and soft dough.
Add the melted butter to the dough. Mix well until the dough is homogeneous.
Roll out the dough using a rolling pin, to obtain a layer 1/3 inch thick.
Cut the cookies with the shape of your choice using a cookie cutter.
Lay the cookies on a baking sheet. Press with your finger the center of each shortbread cookie and spread some jam on it.
Bake in the oven at 320 F for about 20 minutes or until slightly brown.
Tips:
If you desire, you can spread some icing sugar on top after baking
Try this cookies with your favorite choice of jam. Very good with strawberries, figs and peach jam!
If you don't have cookie cutters, an easy way to obtain well shaped cookies is to make small balls of dough (1/2 inch to 1 inch of diameter) and spread them down with your hands
Another easy way to obtain perfect cookies is to shape the dough as long and thick logs. Refrigerate for a while to harden the dough and then just simply cut the dough in 1/2 inch slices
Jam dotted Shortbread cookies is tagged as: