If you like this recipe come back on www.happystove.com and rate it!
Lemon Glazed Strawberry Cake - Recipe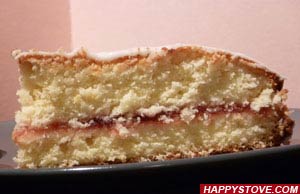 Lemon Glazed Strawberry Cake is a delicious recipe with wholesome ingredients for an unbelievably tasty dessert. Perfect with coffee or tea to start your day or as a treat for your guest and family.
Stats:
Preparation time:

45 minutes
Cooking Directions:
The cake:
Soften the butter in the milk in the microwave or on the stove top at low heat. Allow to chill a bit.
In a large bowl mix together the egg yolks with the milk and the melted butter.
Grate the zest off the lemons and add in the bowl. Squeeze the lemons and save the juices for later.
Slowly add the sifted flower in the bowl, mixing with a spoon. At the very end add the yeast and mix well.
Pour the cake mix into an 8 inches diameter cake pan, previously greased with some butter and sprinkled with flour.
Bake in the preheated oven at 400F for 40 minutes. It will be ready when a woodstick inserted in the cake will come out dry.
The filling:
When the cake is cold cut it in half horizontally with a knife or with dental floss.
Remove the top half and spread some strawberry jam or the previously prepared Strawberries Topping Sauce ↪.
Put the cake together carefully re-adding the top part of the cake and cover with the glaze as described below.
The glaze:
Beat together the juice of the 2 lemons with the powdered sugar. You can use an electric beater to make this step easier. See recipe (How to Make Homemade Water Based Glaze ↪) for additional instructions and suggestions.
Top the cake with the glaze, leveling it with the help of a spatula.
Let rest for one hour or until the glaze is set before serving.
Tips:
You can substitute half of the milk with yogurt (plain, strawberry or lemon taste).
You can customize the flavor of this cake by using different jellies, custards like Pastry Cream Custard ↪, Chocolate Pastry Cream Custard ↪ or Coffee Pastry Cream Custard ↪.
Lemon Glazed Strawberry Cake is tagged as: