If you like this recipe come back on www.happystove.com and rate it!
Chicken and Pickled Cucumbers Salad - Recipe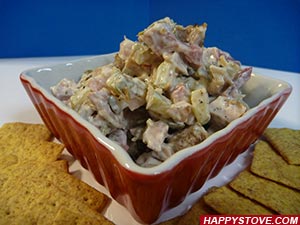 Chicken and Pickled Cucumbers Salad is a terrific idea for a quick and easy mayonnaise based salad. A great way to dress up some leftovers. Delicious and yummy, best when served chilled.
Stats:
Preparation time:

15 minutes
Cooking Directions:
Saute the chicken breasts with some unsalted butter on a skillet for few minutes, flipping from time to time, until cooked. Let cool and cube. This recipe is perfect also for chicken and turkey leftovers. Simply cube the meat and use it in this recipe.
In a bowl, mix the cubed chicken breasts and the cubed pickled cucumbers.
Add the mayonnaise. Adjust the quantity to obtain a lightly creamed chicken salad.
Adjust with salt and pepper. Keep seasoning short if using chicken leftovers that are already flavored.
Place in the fridge and let chill before serving.
Tips:
If you like you can add some boiled potatoes to the chicken and pickled cucumber salad. Adjust the quantity of mayonnaise to keep the salad moisten.
For additional flavor, you can mix some giardiniera salad or other pickled vegetables to the chicken and pickled cucumber salad.
Chicken and Pickled Cucumbers Salad is tagged as: