If you like this recipe come back on www.happystove.com and rate it!
Cabbage and Pork Stew - Recipe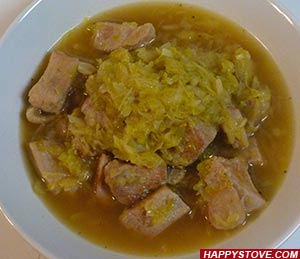 This recipe for Cabbage and Pork Stew is a delicious and tasty idea that is also a complete meal. Hearty and with a full taste, this recipe is the ideal choice for the cold season and the long winter nights.
Stats:
Preparation time:

30 minutes
Ingredients:
To browse other recipes using that ingredient click on the
Cooking Directions: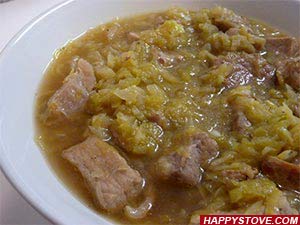 Wash and shred the green cabbage.
In a large stockpot saute the garlic in extra virgin olive oil until lightly brown, then add the shredded cabbage. Stirring continuously stir fry for 1-2 minutes.
Add 3 cups of water to the cabbage. Let boil, covered, for about 15 minutes.
In the meantime, cube the pork loin in pieces of about 1 inch and stir fry in a different large skillet with butter on medium-high flame.
When the meat is seared and lightly browned on the outside, turn off the flame and transfer the pork pieces in the pot with the cabbage.
Adjust with salt and pepper and add the ginger powder, some cumin, freshly ground white pepper corns, bay leaves and juniper berries.
Add more water if too dry. Add some broth or a ham boullion if the sauce is too light and unflavored.
Let cook for 30 minutes, stirring occasionally to avoid sticking to the bottom of the pot. Serve the Cabbage and Pork Stew hot.
Cabbage and Pork Stew is tagged as: