If you like this recipe come back on www.happystove.com and rate it!
Spicy Chicken in Black Beans Sauce - Recipe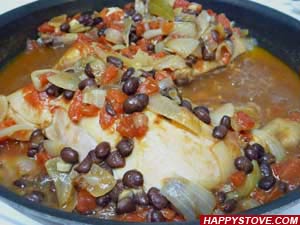 Looking for a hearty and spicy recipe? Spicy Chicken in Black Beans Sauce is a perfect choice to spice up your meals. A great chicken recipe that has a full body of flavor and is really easy to prepare.
Stats:
Preparation time:

15 minutes
Cooking Directions:
Wash and clean the yellow onion; cut it in large pieces.
In a large skillet, big enough to cook the chicken with the sauce, saute the onion in olive oil.
When the onion is almost caramelized add the black beans with their juices and saute for an additional minute, stirring continuously.
Add the crushed red peppers as desired.
Transfer in the pan the chicken breasts and cook together with the black beans and onions at high flame for 1-2 minutes.
At this point, pour the diced tomato sauce in the pan and mix well.
Cover, lower the flame to low-medium heat and let cook for about 10-15 minutes.
From time to time stir the black beans sauce and pour on top of the chicken while cooking, to keep the meat moist.
When the chicken is fully cooked and tender, serve with a side of steamed rice and Fried Plantains ↪.
Spicy Chicken in Black Beans Sauce is tagged as: