If you like this recipe come back on www.happystove.com and rate it!
Pork Loin with Mustard, Sesame and Poppy Seeds - Recipe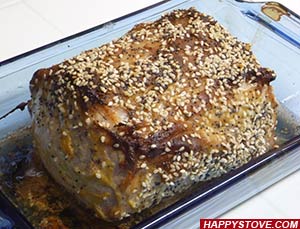 Pork Loin with Mustard, Sesame and Poppy Seeds is an easy way to cook a yummy pork loin without the need of extra oil. The Mustard, Sesame and Poppy seeds coat will give a spicy touch that well matches the delicate flavor of the pork meat. Simple and absolutely exquisite.
Stats:
Preparation time:

15 minutes
Cooking Directions:
Heat a large non stick skillet on high flame and sear the pork loin on all the sides until lightly golden brown. No oil or butter are needed since the high heat will partially melt the pork fat during the searing process.
Remove from the heat. Let cool for a few minutes until you can comfortably handle the pork loin with your hands for dressing it.
Brush enough mustard to completely coat the pork loin all around. If you don't have a brush a spoon will work just fine.
Mix together abundant sesame and poppy seeds. Sprinkle the seeds evenly over the mustard coat. Turn upside down and sprinkle the other side.
Place the meat coated with mustard, sesame seeds and poppy seeds in a baking pan with the fat part facing up.
Transfer in the oven at 400F for about 30 minutes or until the top is brown and slightly crusty and the inside is well cooked.
Cut in thin slices and serve the Pork Loin with Mustard, Sesame and Poppy seeds with some of the juice from the bottom of the pan.
Tips:
You can also sprinkle some yellow or black mustard seeds together with the sesame and poppy seed over the pork loin.
An easy side can be prepared by adding in the baking pan with the mustard pork loin some onions and bell peppers in large pieces or potatoes in small cubes.
Pork Loin with Mustard, Sesame and Poppy Seeds is tagged as: