If you like this recipe come back on www.happystove.com and rate it!
Oven Baked Breaded Tilapia - Recipe
Oven Baked Breaded Tilapia is a healthy and light dish that does not require use of extra oil or butter to be turned into a tremendous entree. A delicacy you can prepare and enjoy in less than 40 minutes. And this recipe for tilapia can be easily followed to bake yummy soles, halibut, cod and snapper fillets!
Stats:
Preparation time:

15 minutes
Cooking Directions: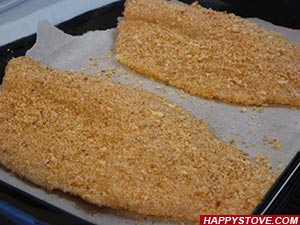 If using freshly caught Tilapia, skin and fillet the fish. If using frozen Tilapia fish fillets, allow to thaw completely before using.
Briefly dip each fillet into the milk on both sides to completely moisten them.
Now lay each milk dipped tilapia fillet on the bread crumbs and flip them to completely coat the fish.
Lay the breaded tilapia fillets on a baking pan. You might, but is not necessary, grease lightly the pan.
Season each tilapia fillet with salt and black pepper.
Sprinkle lightly with few drops of olive oil on top if desired.
Bake in the oven at 400F for about 30 minutes until the bread coating turns lightly brown.
Remove from the oven and place in a serving plate. Top with abundant Italian parsley and garnish with lemon wedges just before serving.
Tips:
This recipe is great also for cooking soles, halibut, cod and snapper fillets
Oven Baked Breaded Tilapia is tagged as: