If you like this recipe come back on www.happystove.com and rate it!
Stir-fried Chicken Breast Strips with Passion Fruit Sauce - Recipe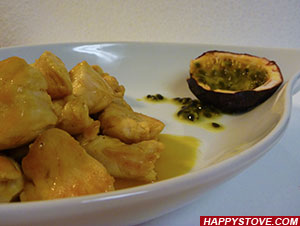 A delicious recipe that brings together the delicate flavor of the stir fried Chicken Breast strips with the tangy hints of the juice of fresh Passion Fruits. An exquisite and sophisticated meal, very easy to prepare and ready in no time. Perfect when served with a side of steamed rice.
Stats:
Preparation time:

15 minutes
Cooking Directions:
Before starting, wash and cut in halves the passion fruits.
Scoop out seeds and pulp onto a strainer set over a bowl to collect the juices. To facilitate the operation gently stir with a teaspoon the pulp in the strainer. Save some of the passion fruit seeds for garnishing.
Prepare the chicken strips by cutting the chicken breasts in long pieces of equal size.
In a large skillet, melt the unsalted butter on medium-low heat and lightly brown the chicken breast strips, stirring frequently.
When the chicken strips are thoroughly cooked, pour the passion fruit juice in the cooking pan and mix very well with the meat. Adjust with salt and ground some white pepper corn on top of the meat.
Cover the pan and let cook for two more minutes, stirring from time to time at low heat.
If necessary, remove the meat strips from the pan, and reduce the passion fruit sauce.
Serve the chicken stir fried breast strips with a side of steamed rice and garnish with some of the passion fruit seeds.
Tips:
If the passion fruit sauce is too liquid, thicken it by adding some flour; cook then for 1-2 minutes before serving it with the chicken strips.
Stir-fried Chicken Breast Strips with Passion Fruit Sauce is tagged as: