If you like this recipe come back on www.happystove.com and rate it!
Asian Style Chicken and Veggie Linguini Pasta - Recipe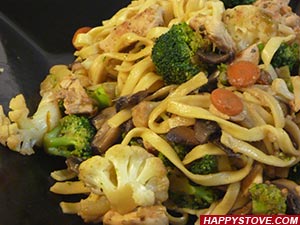 Asian Style Chicken and Veggie Linguini Pasta is a yummy and colorful idea for a terrific meal. Flavorful, this stir fried mix of vegetables and meat will easily become one of your favorite recipes for enjoying linguini pasta.
Stats:
Preparation time:

25 minutes
Ingredients:
To browse other recipes using that ingredient click on the
Cooking Directions:
Prepare the Veggie Stir Fry:
Wash and cut in small pieces the broccoli, the mushrooms, the cauliflowers and the carrots. Slice the green onion.
In a large wok or a non stick skillet heat 1 tablespoon of oil and cook briefly at high heat the green onion until it wilt.
At this point add the broccoli, the cauliflowers and the carrots in pieces. Saute for 5 minutes stirring gently and frequently.
Add the ginger powder and adjust with salt and pepper.
Add the mushrooms and stir fry for few more minutes until the vegetables are ready. The vegetable stir fry is ready when the veggies are fully cooked but still crunchy.
Remove the wok or the skillet from the heat and set the veggies aside.
Prepare the Chicken Stir Fry:
Cut in strips the chicken breast. Remove excess of fat if any.
Grease a hot wok with the remaining tablespoon of oil, and stir fry the chicken breast strips for 5 minutes until fully cooked and brown on the outside.
If desired, add some spicy garlic chili paste to the chicken. When ready set aside.
Cook the Linguini pasta:
In a large pot, bring to boil the water for the pasta. When boiling, add the salt and the linguini. Stir well and let cook. Cook for one minute less than directed in the box. Drain well.
Mix together:
In the wok or the largest skillet you have stir fry together the drained linguini, the cooked vegetable mix and the browned chicken strips on high flame. Add the soy sauce and stir fry for few minutes stirring continuously with a spoon.
Remove from heat, transfer in a large bowl or in single plates and serve hot. Garnish with some chopped peanuts if desired.
Tips:
Instead of chicken you can use tofu, beef, pork or shrimps. Otherwise you can just stir fry only vegetables for a lighter, vegetarian version of this dish.
This recipe can be easily customized by adding or substituting suggested vegetables with the ones you like the most.
Instead of the linguini pasta you can use rice or glass noodles. Cook accordingly.
If the skillet you are using is not large enough or it is too difficult to stir, consider stir frying in two batches.
Asian Style Chicken and Veggie Linguini Pasta is tagged as: