If you like this recipe come back on www.happystove.com and rate it!
Homemade Bread with Sourdough Starter - Recipe
This is a basic recipe for bread with sourdough starter that can be used to bake traditional sourdough bread or that can be customized by adding additional flavors with spices, herbs or even sweets. Challenging but rewarding!
Stats:
Preparation time:

120 minutes
Ingredients:
Sourdough Starter

13 oz

(

see recipe

↪)

Water

(purified, no tap water)

1 1/2 cup
To browse other recipes using that ingredient click on the
Cooking Directions: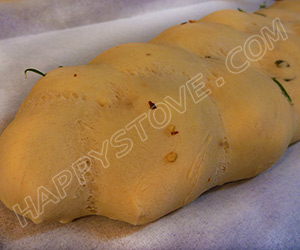 Well ahead of time, refresh the Sourdough Starter at least twice. The yeast should be very active and fresh to rise the bread to perfection.
In a large bowl mix the Sourdough Starter with the bread flour obtaining a flaky dough.
Add the oil and slowly add the water kneading with your hands until it's completely absorbed.
At this point add the salt and transfer to a well-floured smooth surface and start the kneading.
Traditionally you should knead first with the palms then the knuckle and finally with the thumbs. Turning and fold the dough over and repeating the sequence until all the flour is well incorporated and the dough looks smooth and non sticky.
The dough is ready when making a slight indentation in the dough with two knuckles, it slowly "springs back". Adjust with flour or water and knead more if necessary.
Form 2 loafs and set aside covered with a humid cloth in a warm place. We suggest to place the dough to rise in the turned off oven with the light on. The heat generated by the oven light is enough for the dough to rise.
Place each loaf in a bread pan or lay the dough in a baking sheet in the shapes you like the most.
Let rise from 3 to 6 hours, at least until the dough doubles in size.
Preheat the oven at 450F. Place the bread in the oven and lower immediately the temperature to 400F. Bake at 400F for 10 minutes then lower the temperature to 350 F and let cook for additional 30 to 40 minutes. It's ready when the crust on top turns light gold. Do not let it turn dark brown or it will burn. Reduce the baking time if you opted for smaller loafs.
Let cool down. This bread will last few days if well refrigerated. You can also freeze some and it will keep several weeks.
Tips:
This a basic recipe for bread with sourdough starter but you can add flavors to your bread by mixing herbs or even sweets. You can also shape the bread into tangles or other shapes.
If you cook it too much and it turns dark, you can still save most of the bread scraping out with a knife the bitter dark part.
Homemade Bread with Sourdough Starter is tagged as: