If you like this recipe come back on www.happystove.com and rate it!
Mint and Lemon Meat Marinade - Recipe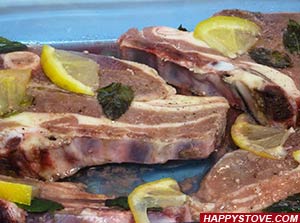 Easy and quick to prepare, Mint and Lemon Meat Marinade is perfect for savory meats such as lamb, beef and games. Surprise your family and friends with this fresh and tangy marinade recipe on your next grilling adventure.
Stats:
Preparation time:

5 minutes
Cooking Directions:
This marinade with its fresh and tangy taste is perfect to ease the flavors of any meat but is particularly suggested for savory meats such as lamb and games.
Wash, dry and chop the mint leaves.
Squeeze half lemon. Cut thin slices from the remaining half.
Lay the meat pieces (or strips) in a large glass baking dish.
Sprinkle with salt and black pepper.
Add the chopped mint leaves and the lemon slices.
Pour the extra virgin olive oil and the lemon juice on top of the meat moistening it completely with the marinade.
Cover and let rest in the fridge for at least 2 hours or even better for 3/4 hours.
Flip the meat every hour to keep it moistened.
When the time is up discard the raw marinade juices and cook your meat. This marinade is perfect both for cooking the meat on the grill and in the oven.
Tips:
Avoid using of metal, especially aluminum, containers when marinating your meat, the acid of the lemon can corrode your pot and spoil your food.
Mint and Lemon Meat Marinade is tagged as: