If you like this recipe come back on www.happystove.com and rate it!
Nutella and Rolled Oats Pudding - Recipe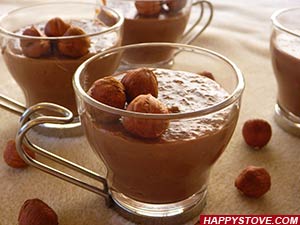 Nutella and Rolled Oats Pudding is a creamy homemade mousse dessert recipe. Prepare ahead single serving dessert cups, refrigerate and delight your favorite guests. A must try for Nutella lovers!
Stats:
Preparation time:

30 minutes
Cooking Directions: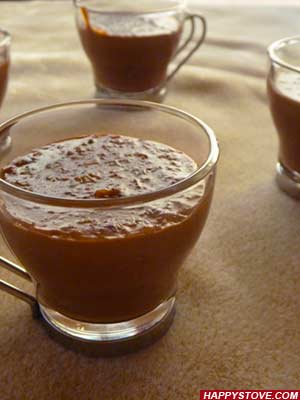 Well ahead, soak the rolled oats in the milk. Let rest for about 2 hours.
When well ready, transfer milk and rolled oats in a sauce pot.
Add the salt, the sugar, the crushed Hazelnuts and the Nutella. Heat at very low heat stirring often.
Bring to boil and let cook for about 10 minutes stirring continuously to avoid sticking and lumps.
At this point remove the Nutella and Rolled Oats cream from heat.
Transfer into dessert bowls or single serving dessert cups and let cool in the fridge. The pudding will firm up while it chills. Serve cold or at room temperature.
Tips:
Try this pudding cold, topped with whip cream. If you like garnish it with whole hazelnut.
Nutella and Rolled Oats Pudding is tagged as: