If you like this recipe come back on www.happystove.com and rate it!
Homemade Zucchini Spread - Recipe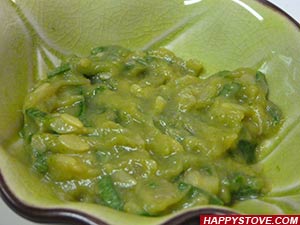 This easy recipe for a Homemade Zucchini Spread is a yummy idea for a a vegan spread. Perfect to dress crakers, crostinis, bruschettas or simply some toasted bread. Healthy and delicious!
Stats:
Preparation time:

20 minutes
Cooking Directions:
Wash and slice onions and zucchini in very thin slices.
In a large pan, heat the olive oil and saute the onion. When caramelized, add the sliced zucchini and cover.
Let cook for about 20 minutes or until soft and fully cooked. Stir often and add some water if necessary.
Remove from heat, adjust of salt and pepper as desired. Let cool down.
Use it either warm or cold as a healthy spread for delicious bruschettas, crackers, crostini or toasted bread.
Tips:
If you like a smoother and creamy spread, you can homogenize it with the help of a blender.
Perfect to serve with cooked shrimps. Just make small bites with bread, zucchini spread and a shrimp.
You can prepare it ahead of time, it will last in the fridge for one, two days.
Homemade Zucchini Spread is tagged as: