If you like this recipe come back on www.happystove.com and rate it!
Vegetarian Pizza Pockets - Recipe
A recipe for vegetarian homemade pizza pockets, perfect as a healthy and yummy snack. A delicious melting filling wrapped in a crusty pizza layer and topped with a mouthwatering tomato sauce. Ideal as main dish, mid-afternoon bite or midnight snack!
Stats:
Preparation time:

60 minutes
Ingredients:
To browse other recipes using that ingredient click on the
Cooking Directions: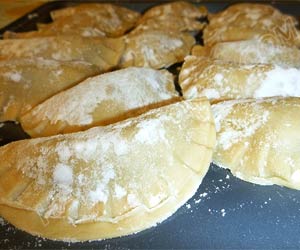 Preparing the Pizza Dough for the Crust:
Prepare the pizza dough following the detailed instructions at the following link: How to make Pizza dough ↪. Otherwise you can buy pizza dough at most stores.
In brief, mix 1 lb of flour, 2 tsps of sugar and 1 tsp of salt in a large bowl. Add 1/2 oz of instant yeast, 1 1/2 tbsps of oil and up to 1 cup of lukewarm water.
Knead to obtain a homogeneous dough adjusting with flour or water if necessary.
Let rest the dough, covered with a moist kitchen cloth, for at least 30 minutes (60-180 minutes advised) in a warm place.
Roll the dough in a thin layer, thick enough to don't break when adding the filling and folding the pizza pockets.
Preparing the Tomato Sauce for the topping:
Heat a sauce pan, add 2 tablespoons of oil and warm up the tomato sauce.
Add abundant oregano and adjust with salt and pepper. Let cook for few minutes at low heat until the tomato sauce thickens.
Let cool and set aside. You will use the tomato sauce to top the oven baked pockets.
Filling, Folding and Baking the Pizza Dumplings:
Prepare the filling by cutting in pieces the mozzarella cheese, the marinated artichoke hearts, the mushrooms. Mix them together with a tablespoon of oil.
Lay the rolled pizza dough in a flat floured surface. Cut the dough in circles with a diameter of 3 - 3 1/2 inches.
Place about 2 tablespoons of the filling in the center of each pizza dough circle. Leave enough dough for closing the pocket.
Fold in half each circles and gently tamp the dough to seal the pockets trying not to break them. To help sealing the dough moisten it with some drops of water.
Place the dumplings on an oven sheet. Bake in the preheated oven at 400F for about 30 minutes or until the pizza dough is well cooked but not brown and crunchy.
When ready remove from the oven and top each pocket with abundant tomato sauce before serving.
Tips:
You can vary the fillings as you please, adding a variety of your favorite ingredients such as olives, capers, carrots, bell peppers.
Instead of topping the pizza pockets with tomato sauce you can put the sauce in a bowl and dip the pockets in it.
Make it spicy by adding some crushed hot pepper to the tomato sauce.
Vegetarian Pizza Pockets is tagged as: