If you like this recipe come back on www.happystove.com and rate it!
Ziti Pasta with Smoked Salmon and Green Asparagus - Recipe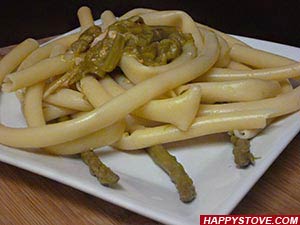 Ziti Pasta with Smoked Salmon and Green Asparagus is a delicious recipe that combines the delicate flavor of the asparagus and the smoky touch of the salmon, all blended with white wine for a yummy and great pasta meal.
Stats:
Preparation time:

20 minutes
Cooking Directions:
If using fresh Green asparagus, wash and clean them under running water to get rid of the sand. Cut away the hard part and boil for 3-5 minutes or until soft and ready. Use a fork to test their softness.
Cut the asparagus in 1 1/2 inches long pieces. Save some of them whole for garnishing.
In a non-stick skillet, melt the butter and quickly saute the boiled asparagus, stirring gently to avoid mashing them.
Add to the asparagus the smoked salmon in small pieces and stir fry for about 1 minute.
Pour the dry wine into the pan over the asparagus and smoked salmon saute and let evaporate on medium-high flame. When almost dry, adjust of salt. Ground some fresh white peppercorn on top.
In the meantime, in a large pot, bring to boil enough water to cook the pasta. When boiling, add salt and the ziti pasta. Let cook until al dente (refer to the package's cooking time).
When the pasta is ready, drain and dress with the asparagus and smoked salmon sauce.
Transfer on serving plates and garnish with the whole asparagus. If desired, sprinkle with Italian Parsley just before serving.
Tips:
If using canned asparagus instead of fresh ones, just drain them well before using them for the saute.
Instead of ziti you can choose another kind of pasta: farfalle, spaghetti or even penne are great choices.
For a richer, smoother version of this recipe you can add some table cream (7-8 oz) to the sauce before stir frying it with the pasta.
Vodka well matches with the smoked salmon and can be used instead of the white wine.
Stir fry the pasta with the asparagus and smoked salmon sauce in a large skillet on high flame to better blend together the flavors.
Ziti Pasta with Smoked Salmon and Green Asparagus is tagged as: