If you like this recipe come back on www.happystove.com and rate it!
Pasta with Eggplant and Feta Cheese Marinade - Recipe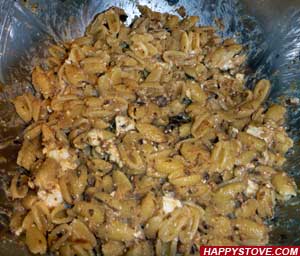 Pasta with Eggplant and Feta Cheese Marinade is a great recipe for a summer dinner. Fresh, light and delicious, this vegetarian pasta is a great idea for cooking something new for your loved ones.
Stats:
Preparation time:

40 minutes
Cooking Directions:
Preparing the Marinade (90 minutes):
Wash and cube the eggplants, each cube 1/2 inch wide. Do not peel them.
To remove the bitter juices from the eggplants, place them in a colander and spread with abundant salt. Cover with a dish and apply a weight on top in order to press the eggplants and help to release the juice. Let stand for 20 minutes then wash thoroughly. Dry using some paper towels or a kitchen cloth.
In a large pot bring boil for 10 minutes the eggplants cubes.
Drain the eggplants and dry using some paper towels or a kitchen cloth.
In the meantime, cube the feta cheese and mix with the eggplants.
Prepare a marinade with the oil, white vinegar, the minced garlic, oregano, basil, salt and pepper.
Add the marinade to the eggplants and the feta cheese and let stand in a cool place for at least 1 and 1/2 hours.
Cooking the pasta (25 minutes):
In a large pot, bring to boil enough water to cook the pasta. When boiling, add salt and the pasta. Cook until "al dente", stirring occasionally.
When the pasta is ready, drain it and dress with the Eggplant and Feta Cheese sauce. Mix well and serve immediately.
Tips:
If you like you can add crushed hot pepper and capers to spice up this pasta.
Gnocchetti, Farfalle, Rotini or Penne pasta are best for this recipe.
You can prepare the marinade ahead of time and keep it in the fridge for up to 24 hours.
Pasta with Eggplant and Feta Cheese Marinade is tagged as: